Our story begins in the early nineties when our founder, Jonathan Alvarado, began the business with an old 4 cylinder pick up truck, a weed eater, and a hand held blower. With a little bit of luck and a lot of hard work, what started as a weekend jo has evolved into a successful business. Over the last couple of decades, Pro Lawn Cut & Landscaping has serviced several hundred commercial and residential clients in the Greater Austin Metroplex. Along the way, our teams and processes have been modified and improved to manage the growth. However, the approach has always been the same – to provide professional, reliable, and honest landscaping services.
Today, we have a core team of 15-20 field team members with 75+ years of combined experience. We offer full landscape maintenance and installation services. Whether it's a simple or complex project, we have the knowledge and experience to complete a project from start to finish. Although we rely on our core internal team to complete all of our projects, we have carefully handpicked partners to help us complete tasks that are either out of our realm , or to augment our teams to keep a project on track. Because of our size and agility, we are able to quickly shift in any directions necessary for our client's immediate needs. Although we always have a project manager or lead contact on site, we task everyone to take full responsibility of the success of the team. However, what has truly pushed our team to succeed, has been our pride in our workmanship, working tirelessly to get every detail right.
We are still family owned and operated, and are proud to consider anyone who joins our team part of our family.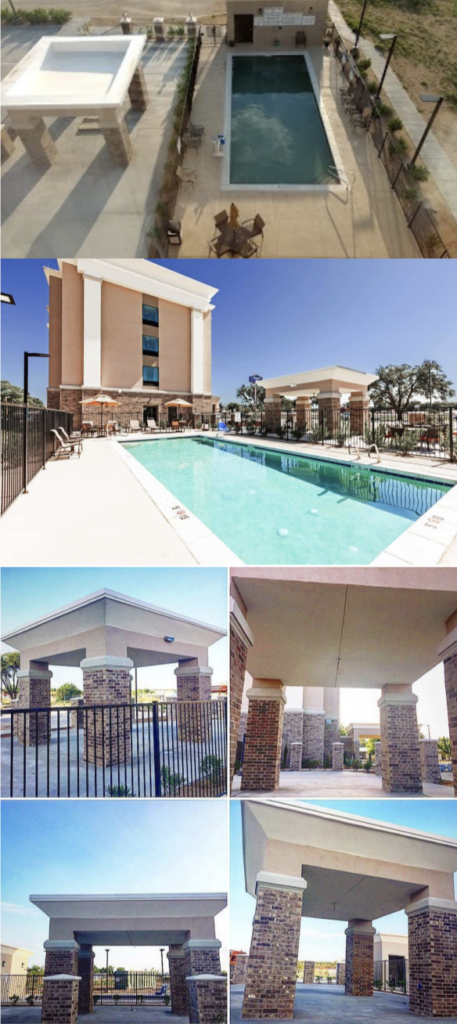 Pictured above: Hampton Inn Hotel. Wrought iron fence, gate, patio cover framing, stucco, brick work, planting and all landscaping.